What is Alchemy Clay?Edit
Alchemy clay is what is used on the O-Clay tab as shown below: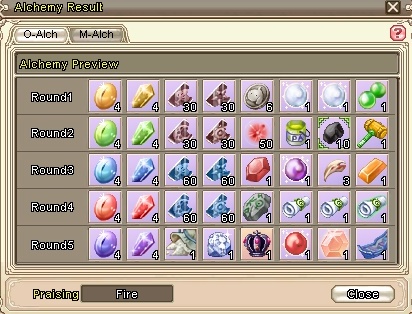 This is just an example of what the o-clay table looks like, since it is different everyday. You can not only clay for the items on the table, but it is a daily as well for anyone looking for a cheap and easy way to gain experience towards leveling.
To view the O-Clay table of the day, you can open up any sprite (F6, F7, F8) and click the button on the bottom left of the sprite interface, where it says Alchemy, and then click the O-Clay tab.
Where It Can Be FoundEdit
You can purchase Alchemy Clays from the Alchemist NPCs in each of the three cities for anywhere from 32g 50s to 26g each, depending on your city fame; 0 fame from the city you buy it in will result in the highest possible price of 32g 50s and 50k or capped fame will give you 26g per clay.
The tables repeat weekly and are the same every week.
Keys and Notes
green text
armor stone variants and armor rune stones
purple text
weapon stone variants and weapon rune stones
note #1
For the "Rune Stones / Blueprints" column, each o-clay table will have both the Intermediate Rune Stone blueprint and basic rune stones for the names mentioned. Ie. Speech (in the table) = there will be a Basic Speech Rune Stone and an Intermediate Speech Rune Stone blueprint.
Links
rune stone effects | resonance stone effects | original table linked here
Here is the table:
Time, in EDT/EST
Superalloys/Nuclei
Stones (Variants)
Rune Stones / Blueprints
Sprite Island Furniture
Monday 17:00 - Tuesday 17:00
(60) Rusty Ancient Superalloy
Plant Explosion
Stability
Azure Boat
(80) Illusionary Karma Nucleus
Ultimate Invincible
Attack
--
--
--
Booster
--
Tuesday 17:00 - Wednesday 17:00
(60) Illusionary Chaos Nucleus
Elemental Explosion
Fortress
Undersea Chest
--
Ultimate Explosion
Blast
--
--
--
Sniper
--
Wednesday 17:00 - Thursday 17:00
(70) Illusionary Consuming Nucleus
Beast Explosion
Rebirth
--
--
Ultimate Growth
Scorn
--
--
--
Harmony
--
Thursday 17:00 - Friday 17:00
(70) Cracked Ancient Superalloy
Demon Explosion
Defense
Broken Wooden Barrel
--
--
Peace
Luminous Shell
--
--
Power
--
Friday 17:00 - Saturday 17:00
(80) Dull Ancient Superalloy
Spirit Explosion
Safety
Withered Flower Garden
--
Ultimate Growth
Engineering
Decrepit Bench
--
--
Stamina
--
Saturday 17:00 - Sunday 17:00
(70) Condensed Consuming Nucleus
Ultimate Magic Explosion
Static
Thriller Ghost House
--
Lightning
Parched Fountain
--
--
Eruption
Broken Stree Lamp
Sunday 17:00 - Monday 17:00
(60) Condensed Chaos Nucleus
Mind Explosion
Spirit
Deep Sea Fern
(80) Condensed Karma Nucleus
Ultimate Explosion
Speech
--
--
--
Control
--
Ad blocker interference detected!
Wikia is a free-to-use site that makes money from advertising. We have a modified experience for viewers using ad blockers

Wikia is not accessible if you've made further modifications. Remove the custom ad blocker rule(s) and the page will load as expected.